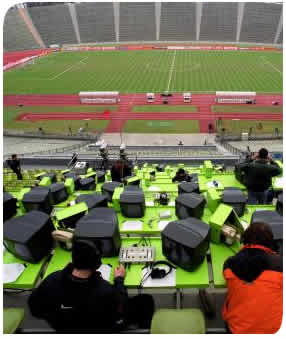 Sports Port is the leading provider of high speed wireless internet access for sports venues.
Our goal is to deploy the latest, secure wireless technologies in order to:
Make life easier for journalist and photographers by enabling them to get high-speed broadband internet connections at sports venues.
Help sports clubs and sports venues of all kinds to offer these new services to journalists, photographers and other professionals who work with them as well as to increase mobility for their own staff.
Support sports clubs and sports venues in maximising revenues from the provision of high speed internet access services and in extending coverage to corporate hospitality areas and conference facilities.
Develop innovative applications and services that make use of the high-speed internet infrastructure we deploy.
More and more people are becoming accustomed to broadband internet connections, in the office and at home – we want to make the same high-speed connections available on site for journalists, photographers and other professionals who work in the sports world. We will be working hard over the coming months to provide access not just in the press box or press room of the stadium, but wherever you need to work. If you are a regular visitor to a particular venue that could use the Sports Port service, please let us know and we will do our best to offer the service there.
For your sports club or stadium, this could be an entirely new revenue stream. You might chose to provide access initially in the press box or you might want to extend coverage across all corporate hospitality areas. To learn how to get Sports Port at your venue, click here.
Please contact us for other information regarding the business.