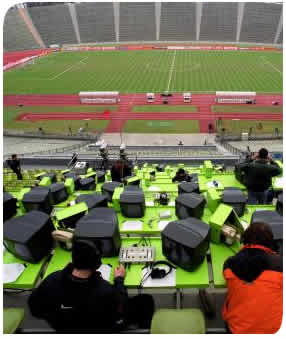 2 June 2004
Sports Reporting Evolving as Venues Install Wi-Fi Access
Wi-fi wireless internet access at sporting venues is starting to have a fundamental effect on sports reporting by the media.

As wi-fi installations become more common-place in major sporting venues, more and more journalists and photographers are taking advantage of the technology to file stories and upload images from pitch-side – more quickly, with better reliability and most cost effectively than other methods like connecting through the mobile phone.

Sports Port, a dedicated team of wireless specialists focussed on sport, have installed wi-fi in some 24 major venues across the UK, including the Millennium Stadium in Cardiff. More than 50 journalists and photographers from national and local papers and news agencies used the Sports Port wi-fi access at the FA Cup Final and the Football League play-offs over the last two weekends.

Download the PDF to read the full press release
20 February 2004
Sports Port launches with 20 football clubs live under a partnership with Toshiba and the Football League
High Speed Wireless Internet Access for Sports Venues
A new business unit, focused on bringing the benefits of high-speed wireless internet access to sports venues, launches today.
Andrew Doe, Managing Director of Sports Port®, commented: "We have been working with Toshiba and the Football League over the past six months to roll out wireless hotspots in Football League clubs across the country. As a result we have perfected a technique for providing high speed wireless internet access for sports venues at low cost. The reaction from press and photographers using the system has been extremely positive, and we believe the time is now right to create a dedicated business unit to bring the benefits of our experience to other sports venues".

Download the PDF to read the full press release
Please contact us for other information regarding any of these press releases.